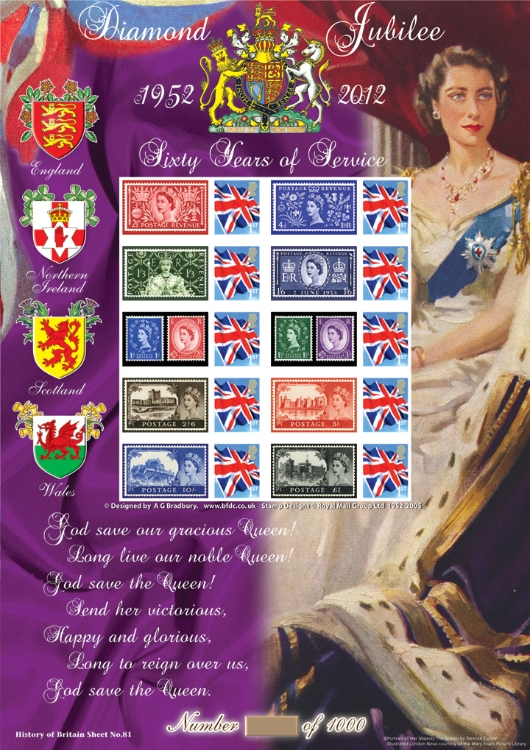 Image from
http://www.bfdc.co.uk
This wasn't going to be my First Post (boom boom!) of The Year, but then The Divine Helga reminded me of my growing Crush on Old Royalty in her post about coming over all Queen Victoria-esque:
http://helgavontrollop.blogspot.com/2012/01/feels-like-touch-of-victoria.html
What with the Diamond Jubilee coming up this year there are going to be some yummy stamps being issued by the Royal Mail. Such as this kind of thing.
Image from
https://www.myroyalmail.com

There were also these 2007 60th Wedding Anniversary stamps -
a bit of Couture Excellence in black and white:
Just before Christmas I picked up a book on more of the Old Lovelies. Its full of splendid pictures of the Victorian and Edwardian ancestors. What with being too busy eating mince pies I haven't scanned it yet, but I'm planning a Bit Of A Feature on the landing wall using images from the book and some of these stamps.
It will all be joining this Jamie Reid poster:
And possibly this photo. I once kidded an impressionable young man these were my grandparents:
(Image by Patrick Lichfield)
.... which reminds me; must decide where we're going this summer!
Image from
http://habituallychic.blogspot.com/2011/02/governor-of-bahamas.html
.
HabituallyChic's blog has tons of fabulous Duke and Duchess of Windsor photographs. I'm going grab a coffee and sit and sigh over them all now....